X-10 Remote TCP Server / Client
1.5.3
Home Automation - Control your X-10 devices wirelessly, wired or directly with this PC server and Pocket PC client
Last update
20 Mar. 2006
Licence
Free to try |

$29.99
OS Support
Mobile
Downloads
Total: 418 | Last week: 0
Ranking
#1 in Communications
Publisher
Jeffers Software
X-10 Remote TCP Server / Client Publisher's Description
Jeffers Software Introduces the X-10 TCP Remote Server, rX10 Desktop PC Remote Client
and the rX10 Pocket PC Remote Client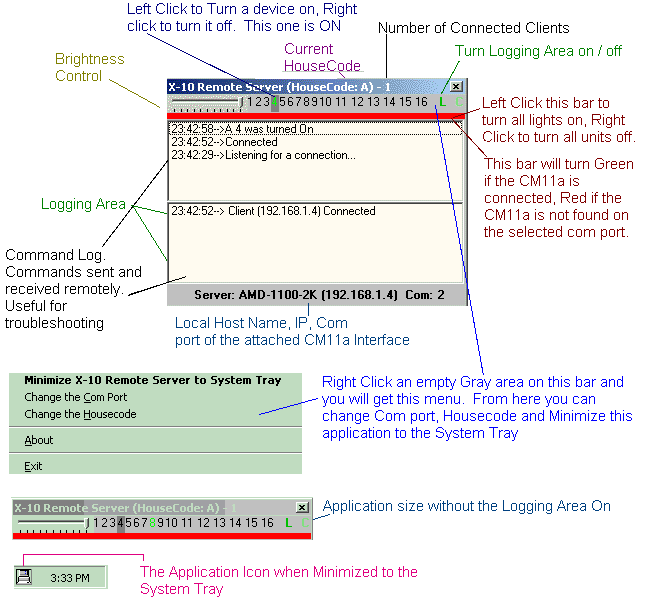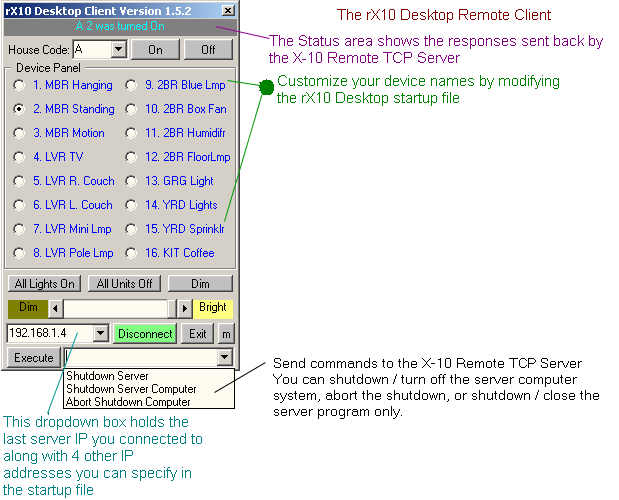 The Pocket PC Client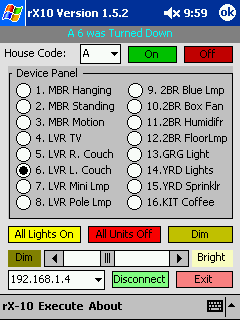 This handy server utility allows you to control all your home automation devices (X-10 & X-10 Compatible) with a simple mouse-click. This X-10 Remote Server will sit on a computer that is connected to your X-10 CM-11a Computer Interface. You can turn any device on / off, dim / brighten lights, turn all lights on, all units off, change housecodes, change comports, etc. all from within this little application.
Now, imagine doing all of this remotely. Imagine using your Pocket PC as a remote control that sends and receives X-10 data wirelessly. Even better how about a Remote Desktop Client for your PC too. If you are running a home network, it's easy to control all X-10 modules from any computer attached to your network by using the PC Client.
All three of these versions are included in the retail version!
New Features:
Execute commands from your Pocket PC Client or your Desktop Client:

Remotely Shutdown the computer system that your X-10 Remote TCP server is running on.
Remotely Abort the system Shutdown
Remotely Shutdown / Close the X-10 Remote TCP server program

ADDED BONUS! Now the Pocket PC Client incorporates Zap Power-Off, so you can either exit / close the program or Turn Off your device, all from the Menu. Saving wear-and-tear on your Power Button.
Updated Pocket PC and Desktop Client interfaces
Cleaned up logging display, made commands easier to read and understand
Bug fixes
Key features of the X-10 Remote Server:
Small application: The server application will sit in your Desktop PC tray and send and receive remote commands from your Pocket PC, other Desktop PC(s), and right from the server application.
Easy to Use: If you know how to tap a screen, use a mouse and left or right click, you have already mastered this application.
Convenient: Tired of searching the house for your RF X-10 Remotes? Wish you could control your CM11a interface from ANY computer, NOT just the computer that has the CM11a attached to it? Want to control your home with your Pocket PC using wireless?
Powerful: This application accepts unlimited connections from multiple sources, PCs, Pocket PCs, etc. This application works via TCP, so if you already have a home network running, either wirelessly or wired, you are set to remotely control your home.
What you will need:
X10 Activehome Computer Interface CM-11A or compatible (ex. from here: http://www.smarthome.com/1140.html) that is connected to a Desktop PC / Laptop PC with an open com / serial port to connect the CM11A to
The Free X-10 Remote TCP Server - included in the retail and the trial versions. This Server runs on Windows (95,98, ME, 2000, XP, and higher) Operating Systems
The rX10 Desktop PC Remote Client - included in the retail version (for controlling your devices from a PC). This PC Client runs on Windows (95,98, ME, 2000, XP, and higher) Operating Systems
rX10 Pocket PC Remote Client - included in the retail version. This PPC Client runs on Pocket PC 2000, 2002 and Windows Mobile 2003 devices
A Pocket PC wireless adapter or ActiveSync connection if you want to control the Server from your Pocket PC

Download the Trial version (v.1.0.7) of the X-10 Remote Server now!

X-10 is a registered trademark of X10 USA
Look for Similar Items by Category
Feedback